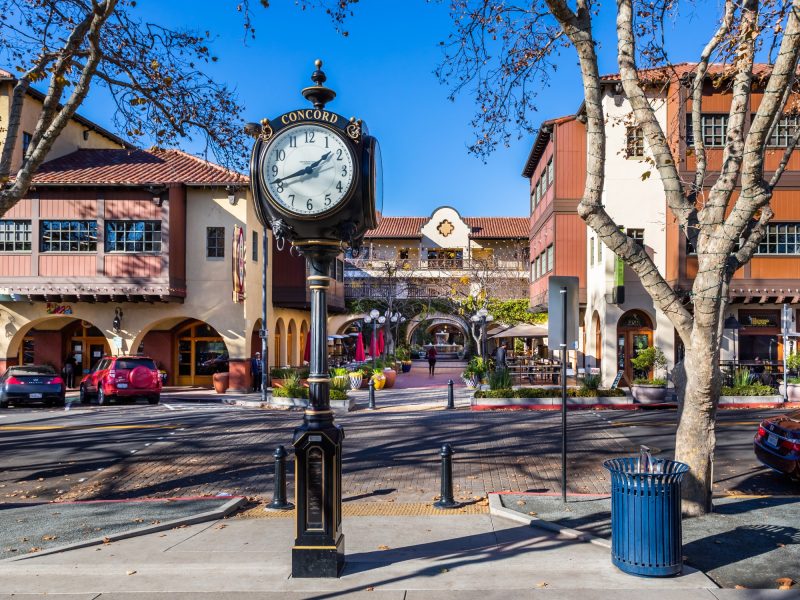 Concord is the largest city in Contra Costa county, with a population of 122,067 as of the 2010 census. Due to its size, central location, and easy access to freeways and BART, Concord attracts companies of all sizes and is home to a thriving business community. For some of the same reasons, Concord residents find it easy to commute around the Bay Area.
At the center of Concord's downtown area, Todos Santos Plaza is often the focal point of community activities. Surrounded by restaurants, Todos Santos Plaza hosts a weekly farmers market and attracts Concord residents and visitors alike for live music and other events throughout the year.
And speaking of live music, the Concord Pavilion, designed by architect Frank Gehry, is Concord's outdoor concert venue, hosting some of the biggest acts in the world during its annual season from May-October. Jazz fans will tell you the Concord Jazz Festival is a must-see.
Sports enthusiasts will find plenty to do in Concord. In addition to year-round sports opportunities for kids, Concord's Parks & Recreation department offers plenty of opportunities for adults as well. Concord Softball is the largest adult slow-pitch softball league in the area, offering men's, women's, and co-ed teams in the spring, summer, and fall seasons. Concord is also home to one of the largest Pickleball complexes in Northern California, available for league and open play.
Residents of Concord enjoy the amenities that come with living in a larger city, while Concord's citywide events and gatherings, and its diversity of small and friendly neighborhoods help to build a sense of community.