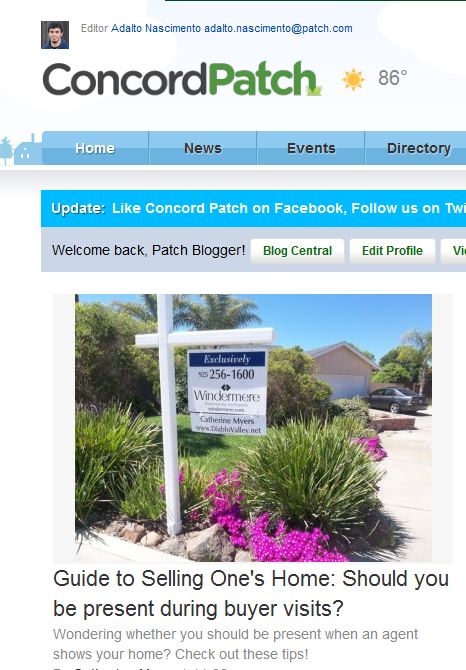 I just wrote a blog post for the Concord, CA real estate section at the local patch news blog.  It's been exciting to blog for the local Patch and today, the editor of the Concord Patch, cross posted my article to Walnut Creek's Patch as well.  All great news!
I enjoy sharing about the topics important to the clients I work with, and whether to stay in the house, or to leave during buyer showings is one of the top questions I get when selling an occupied home.
I have experienced both sides of this coin. I've had sellers that may very well have cost themselves a buyer by sharing too much, and I've had the other extreme of a buyer and seller getting along so well that they actually became friends after the house closed escrow ! You just never know.  Mostly though, it's best to leave the buyer alone, let them talk in piece to their real estate agent, and let them be honest.  You want people to feel comfortable in your home, not like they're intruding.
You can find the article about whether you should stay or go during buyer visits at Concord CA Patch.
I have a free e-book available if you're thinking of selling your home.  Request "450 Ideas for Selling your Home Faster" by contacting me here and I'll get it right out to you!  Just let me know what e-book you would like. I have two bonus books as well, Moving with Pets, and Moving with Children. I'm happy to send all three if you like!
If you like the article, please comment at Patch, recommend it to friends on Facebook or tweet! Thanks for your support!